Find, fix, and prevent vulnerabilities
Acunetix is an application security testing solution for securing your websites, web applications, and APIs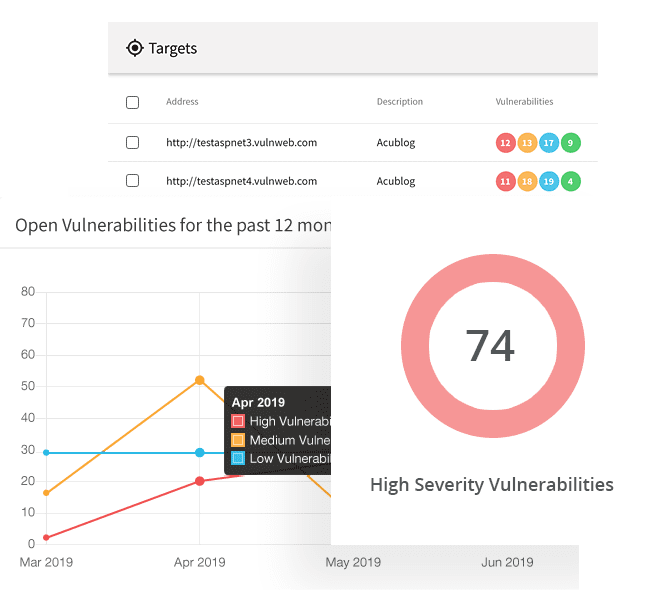 Acunetix is an application security testing solution that helps you address vulnerabilities across all your critical web assets.
Find what other scanners don't
Acunetix isn't your typical web vulnerability scanner. Whatever your web presence, Acunetix has what it takes to manage the security of all your assets.
Detect over 7,000 vulnerabilities including SQL injections, XSS, misconfigurations, weak passwords, exposed databases, and out-of-band vulnerabilities.
Scan all pages, web apps, and complex web applications, including single page applications with lots of HTML5 and JavaScript.
Advanced macro recording technology lets you scan complex multi-level forms and even password-protected areas of your site.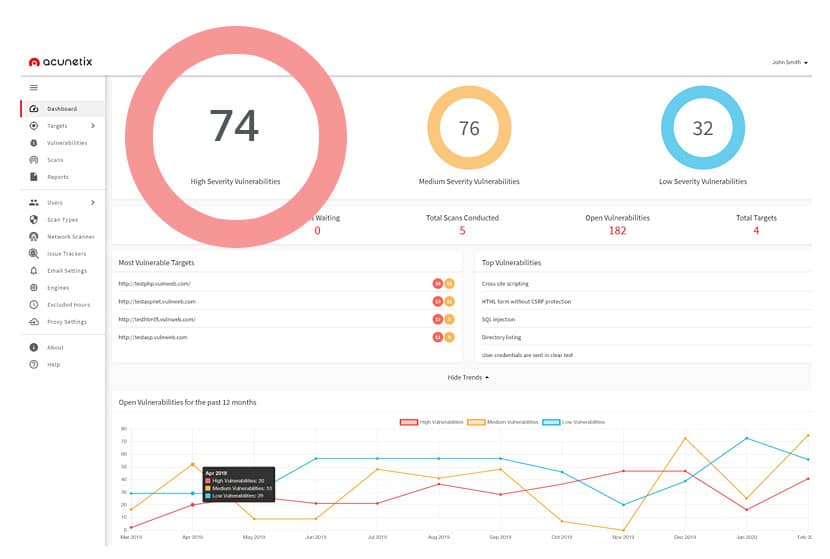 Better results in less time
Get proof that vulnerabilities are real and not false positives and have Acunetix assess the severity of the issue, giving you immediately actionable insights.
Intuitive and easy to use, Acunetix eliminates lengthy setup and onboarding times. You can get set up and start scanning in just a few clicks.
Acunetix verifies which vulnerabilities are real, freeing your team from chasing down false positives.
Saves time with lightning fast scans that find key vulnerabilities immediately and don't hog your network or overload your servers.
Automation at your fingertips
Extend the power of Acunetix even further with automation.
Schedule and prioritize full scans or incremental scans according to your traffic load and specific business requirements.
Manage identified issues with built-in vulnerability management functionality or integrate with your current tracking system, whether it be Jira, GitHub, GitLab, Azure DevOps, Bugzilla, or Mantis.
Scan new builds automatically with modern CI tools, such as Jenkins, and import pre-seed crawl data from Fiddler, Burp, Paros, Postman, and more.